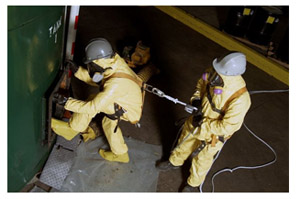 Midwest Environmental Services, Inc. provides a wide range of waste management services –including the transportation, management and disposal of both hazardous and non-hazardous wastes, emergency response, environmental assessments and site remediation. Midwest is the source for your environmental needs.
Practical, hands-on environmental solutions have become an ever more important service for our clients. We can provide the personnel and equipment to accomplish a wide variety of tasks, whether it is at a controlled generator site, an abandoned facility, or an emergency response situation. Because of our wide range of in-house equipment, manpower and professional resources, Midwest offers a unique combination of advanced technology and field experience to produce cost-effective solutions to your environmental concerns.
Let Midwest Environmental Services become your partner in waste management, recycling and meeting environmental regulations. Our comprehensive menu of environmental services can also help make your life easier by keeping up with the permits, rules, regulations, and reports required to keep you in compliance, helping you avoid unnecessary fines that could affect your business.
Want more information on Midwest Environmental Services? Contact us online for more information, or call 513-681-9990.