Brownstown, Indiana
Corporate Headquarters
420 1/2 S Francis
Brownstown, IN 47220
Phone: 812-358-5160 Fax: 812-358-5642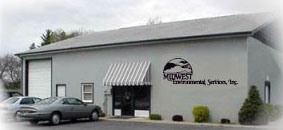 The Corporate Headquarters for Midwest Environmental Services is located in Brownstown, Indiana. This office houses sales, accounting and customer service departments, as well as truck dispatch.
Want more information on the Brownstown, Indiana location or any of the facilities owned and operated by Midwest Environmental Services? Contact us online for more information, or call 800-388-5160.